Endorsement
28th May 2008
Happy new year
January 2008
Best wishes for 2008 !
New section: Articles
26th November, 2007
We are pleased to announce the opening of our new Articles section!

This section is dedicated to covering certain aspects of our work and, time permitting, share our know-how.

Our first article is about one of our projects: Cleack.



Please have a glance at it to get an idea of the real-time rendering capabilities of our technology.
You may also visit our Gallery section to have a look at more screenshots taken from that project.
More news about our completed projects will be posted regularly, so please check this section!
Finally some news!
11th July 2007
Since May we have been working on 2 new projects still confidential though. Here some (reduced) snapshots to provide you with a foretaste of the masterpiece to come.
More details coming soon.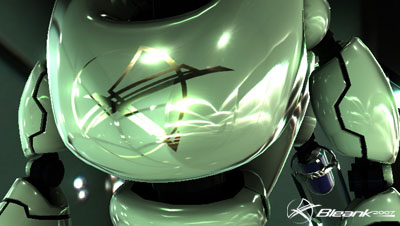 Real time rendering for the first project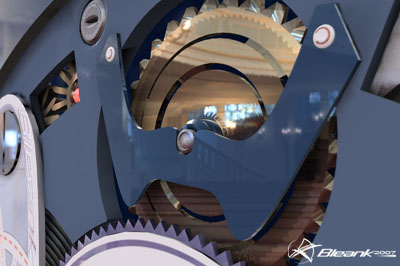 Real time rendering for the second project
Gallery Updated
6th April 2007
Our team of experienced scientists suggests you its results in terms of atmospheric effects.

Click here to have a look.
Gallery Updated
26th March 2007
In the R&D gallery, a velvet shader has been added.
Gallery Updated
13th March 2007
As many of you are interested in our development, we have created a new section in our gallery: R&D.
We'll try to update the gallery every two weeks so that you can keep an eye on our evolution. All suggestions are welcome, feel free to contact us.
Happy new year
January 2007
Bleank's team wishes you a happy new year 2007.
Screenshot from the latest evolutions of the engine. Depth of Field in HDRI.